INTERMEDIATE, ADVANCE AND EXPERT VIOLIN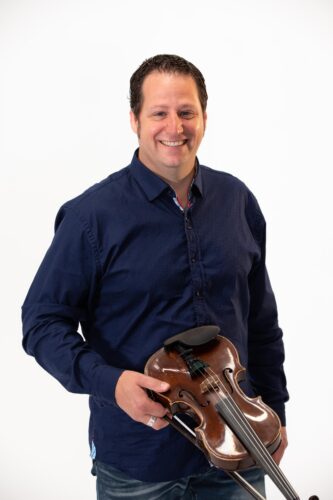 Born in 1976 in Lacolle in Montérégie, André Brunet was drawn to music from an early age. His parents, having noticed this strong attraction, quickly encouraged André to develop his passion for music. From then on, at the age of nine, the violin became his instrument. It was with his brother Réjean that he began his career by forming the group Les Frères Brunet, with which he recorded several albums and performed in concert in front of large crowds all over the world. 
In 1997, his style, both energetic and refined, earned him a place in the famous group La Bottine Souriante with which he played in more than 15 countries in 10 years. His adventure continued with his former colleagues Pierre-Luc Dupuis and Éric Beaudry, forming the trio  De Temps Antan  in 2014. 
In December 2017, André joined the ranks of Le Vent du Nord. A return to his roots as he joined his brother Réjean in the formation founded in 2002 by Nicolas Boulerice, Olivier Demers and Simon Beaudry; and who now travels the world as a quintet formula. 
It was in that same year that he recorded his first career album:La grosse maison rouge. An album that shows his great fiddling talents but also guitar and piano skills. Several musicians with whom he has played during his career played with him on this disc, including his wife  Evelyne Gélinas (Galant, tu perds ton temps, Les Langues Fourchues) on flute, harmonica and vocals. 
Bearer of the knowledge of traditional Quebec music, he was able to demonstrate this heritage all over the globe within the  Celtic Fiddle Festival band from 2004 to 2015 beside the great fiddlers Kevin Burke (Ireland) and Christian Lemaître. (Brittany) as well as the renowned guitarist, Nicolas Quemener (Brittany). 
Having participated in several fiddle competitions since his beginnings, it was in August 2008, during a meeting bringing together more than twenty fiddlers from across Canada, the Canadian Grand Masters Fiddling Competition, that André won the title of "Grand Master of Canada" by winning first place. This prestigious award makes him the first Quebecer to win this competition since its creation in 1990. 
In 2008, he created a musical camp with Éric Beaudry and Stéphanie Lépine, Camp de Violon Traditionnel Québécois de Lanaudière. This camp is dedicated to learning and perfectionning the fiddle Quebec traditionnal repertoire.